Headshots & Executive Portraits
Professional Headshots and Executive Portraits
Providing magazine-quality Professional Headshots & Executive Portraits for professionals. In today's digital age, with LinkedIn, Facebook, and Instagram, a professional portrait reinforces your brand. Over the years, Marc has photographed brokers, builders, architects, and, corporate executives.  It's a common scenario for your firm or agency to have a professional portrait of you on hand for marketing and branding. If you don't have a professional executive portrait or headshot, you scramble to find a good-looking photo of you and only come up empty-handed and use a snapshot from the last party you attended. In frustration, you reach for your smartphone, snap a few images and choose one, which is ultimately unflattering.  But imagine if you had a gorgeous professional headshot on hand, photographed with perfect lighting, posing, and attire, that brings out all your best qualities. You'd simply access your portrait on your laptop, desktop or iPhone and hit send with confidence and a great feeling, knowing that you'll look your best in print and online. Marc is based in Irvine, and photographs throughout California and beyond. He's easy to work with and has a great eye for capturing creative, clean crisp images.
To book your
headshot or executive portrait session
, contact Marc by phone @ 949.494.5084 or 
email Marc here.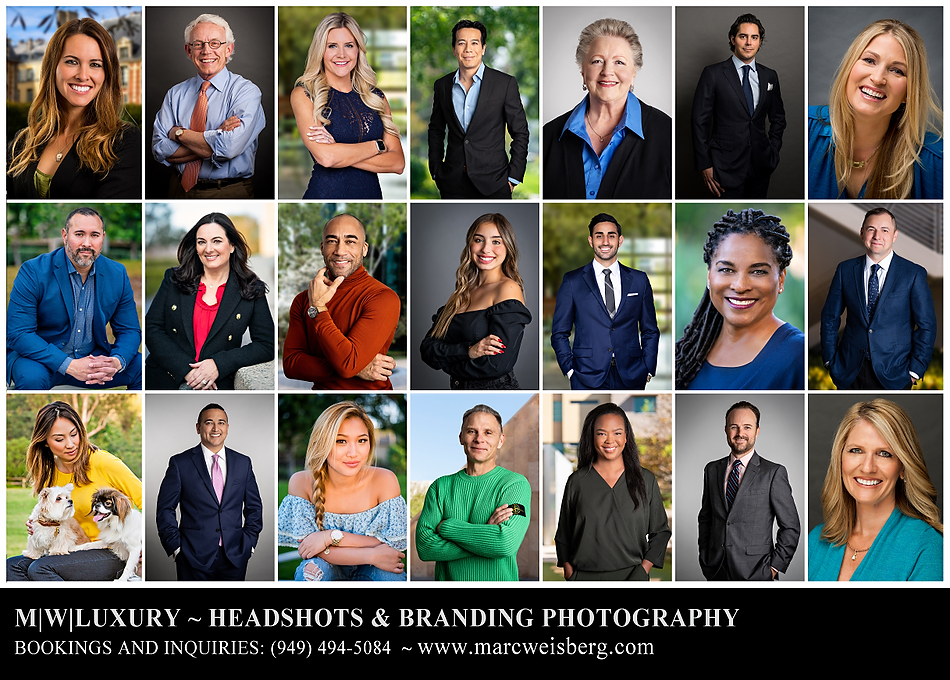 About Marc
Marc Weisberg specializes in Luxury Branding Photography, Commercial & Luxury Real Estate Photography and is based in Southern California.
Contact:
To contact Marc for more information, email him here. To reach Marc directly to discuss commissions, phone him at 949.494.5084.
Real Estate Photography Commissions Include:
Homes and estates ranging from $2m – $19m+ in Los Angeles, Irvine, La Jolla, Laguna Beach, Newport Beach, San Clemente & San Juan Capistrano, San Francisco and New York City. And commercial architectural projects for $1 billion plus.
Architectural Projects:
CBRE, Los Angeles
Westfield, Century City, Los Angeles
HFF, Los Angeles, Orange County, San Diego
Lennar, national home builders
Irvine Company, Apartment homes, Residential, Office Space, Retail
Hyatt Hotels, and Salk Institute in La Jolla
Greystar, commercial residential / multi-family
Luxury Real
Estate Images