Orange County Headshot Photography Offer
1 Day Only, Irvine, February 15th, 2023, Book Your Private Headshot Session
---
Irvine & Orange County Headshot Photography Offer
SOLD OUT:  NEXT O.C. HEADSHOT PHOTOGRAPHER OFFER BOOKING
Hello friends, Are you looking to jump-start your marketing imagery for 2023?

Would it elevate your brand or help your career if you or your firm, flat-out, had remarkable headshots?

Have you been putting off updating your old headshots for way too long?

If you answered yes to any of the questions above…..Join me on February 15th, 2023 in Irvine, California and I'll create amazing
images of you for your website, LinkedIn, print, and social media.

---
"The Perfect Professional Headshot Is Worth $1,0000.00, and Maybe Even a Job." ~ WSJ
---

Marc works with Entrepreneurs, Attorneys, CPAs, Health professionals, Writers, Artists, Creatives, and people like you, to create amazing

headshots

that
grab attention and boost brand style, thanks to his 22 years of experience with high-end clients. You won't want to miss this opportunity.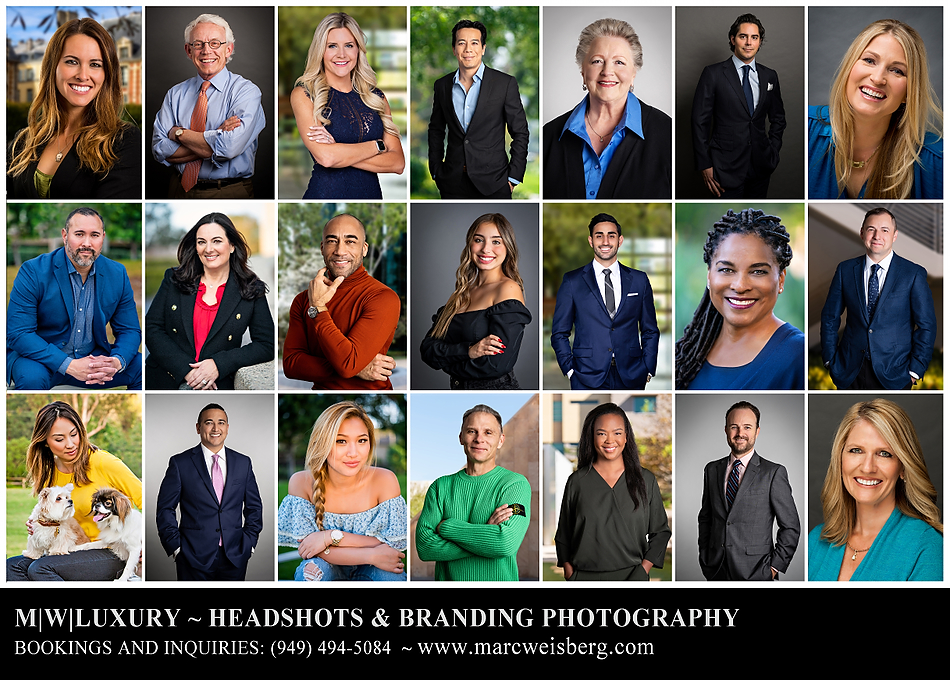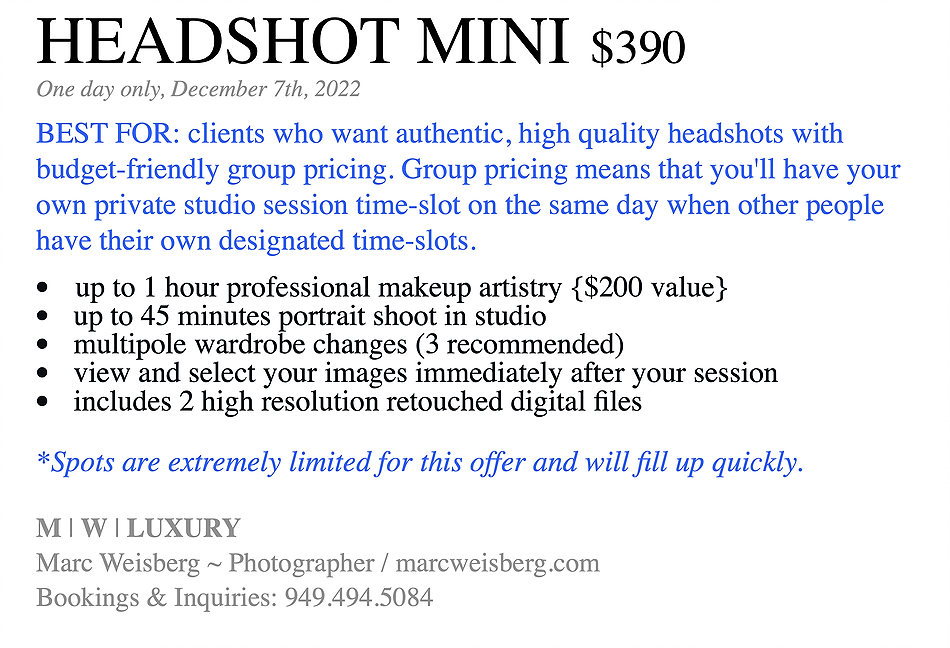 RAVES 

"Marc took every opportunity and made every effort to place, and position me in the exact perfect manner that would create the best photograph.  And the result was nothing short of magic. Truth be told, I had no idea I could look that good. Marc is a master craftsman and an artist. The photos that he produced for me were, in a word, beautiful. I would highly, highly recommend Marc Weisberg for not only his skills as an artist-photographer but also as a professional." ~ Sandeep Shah, Attorney

"I have always been told that I was not very photogenic…. I've never liked getting my picture taken. I was very nervous about getting my photograph taken. I had heard the comments from other friends that had professional portraits done, how easy Marc is to work with, and how happy they were with the results. Marc made the sitting so easy. He calmed my nerves and helped me to relax and enjoy the process.  I would highly recommend Marc to anyone who needs a Professional approach to their Business, Marketing, and Social Media needs. On a scale from 1-10, with 10 being the Best, I would give Him a 12! " ~ Vicki Geisler, RN

"I have received a ton of feedback from people about how great I look in the photos that Marc took.  I am sure they must be thinking … anyone that can make Larry Paul look that good must be a magician, not a photographer! Thank you, Marc, you're the best!" ~ Larry Paul, Mortgage Expert

"If you are considering updating your social media or website photos, consider professional headshot photographer Marc Weisberg. Marc is a detailed-oriented and fastidious artist and takes a sincere interest in capturing the image you wish to convey. This means that no detail will be overlooked, from wardrobe suggestions to ensure the best light and location. Marc is very considerate and ensures that you are satisfied with your shoot. He will make you look and feel like the professional that you are. I have received numerous compliments on my new photos!" ~ Cynthia Sender, VP, Care Assist.

"

Wow! Marc is not only a pro photographer, but he really knows how to handle people. I'm no super model of course, but I felt like one during the shoot. His tips and adjustments give you confidence. I'm really impressed with his suggestions and the outcome of the pictures. I got lots of compliments from others on my photos.  Thank YOU, Marc

!!" ~ Rob Wong, Atomic Solutions.

"I cannot get over how much I love the job Marc did on my new headshots. Marc captured something in my photographs that, when I look at them, I try harder to be that person. In our virtual world, many people know us only by our profile photos. After Marc photographed me, he showed me, someone, I would want to do business with. It is a photograph I am confident to display. Thanks again Marc, I really did not imagine I would be this happy with new headshots." ~ Tim Kowal, Appellate Attorney 

"I love the job Marc did on my new headshots he definitely captured my character. Not only do I look beautiful and young, but I also reflect confidence, energy, and a trustworthy appearance. I love that he captured my spirit in my headshot. I have used these headshots for all my professional contacts and networks. Marc, thank you for the wonderful experience and fantastic results. I would certainly recommend you to my friends and coworkers."~ Cindy Bai, Life Insurance Specialist

"Marc is amazing. His patience and attention to detail are second to none. He makes you feel very comfortable and relaxed. I can't say enough great things about my experience. The only mistake you can make is not choosing Marc for your photo opportunities." ~ Bill Mazurek, Insurance Specialist

"I recently arranged for Marc to photograph me to enhance my business image for emails, and social media outlets. Marc's work is impeccable, paying very close attention to my expression, body posture, and wardrobe color combinations. The results are fabulous and I am very happy that Marc paid such close attention to detail. I would highly recommend Marc for your next professional photoshoot, you won't be disappointed!" ~ Brad Purcha, Colonial Life, Long Term health benefits insurance

"I recently had my headshot taken by Marc Weisberg and his focus on detail leaves you feeling that you're in the hands of a real pro. Marc has over 20 years of photography skill and experience and it really shows. He'll create amazing images you'll love!!!" ~ Malcolm Willis, Musician & Entertainer