Luxury Kitchen Interior Corona Del Mar
Corona Del Mar Luxury Real Estate Photographer
Corona Del Mar Luxury Real Estate Photographer: Here's a kitchen interior and details I photographed for the firm of Sea Pointe Construction. Sea Pointe is a full-service firm that does interior design and construction. They are highly regarded in the community. "For more than 26 years, Sea Pointe Construction has been offering Design + Build construction services throughout Orange County specializing in residential remodeling including additions, kitchens, and bathrooms." It was great to photograph this light and airy kitchen interior in Corona Del Mar, California.
Gear: Sony a7s, FE 16-35 f/4, FE 24-70 f/4, Neewer TT850 speedlights, Godox transmitters, and receivers.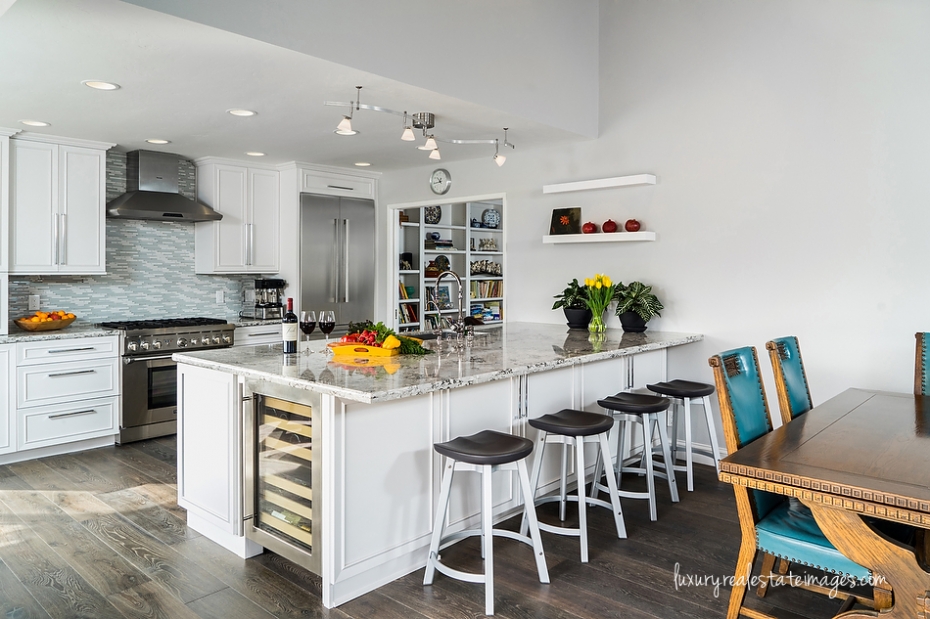 No Short Cuts
Allot of interior photographers will take a short cut when photographing a luxury kitchen instead of lighting it. They use a technique knows as HDR. High Dynamic Range. A HDR photographer takes a series of exposures known as bracketing. Bracketing will capture the darkest, the mid tones and the lightest tones in the images. Then they combine the images using HDR software. The issue with HDR, is that it causes color casts on the different surfaces and textures that the designer has painstakingly picked to show off the luxury kitchen and home's attributes. It also has a cartoonish look instead of a magazine quality look. The other thing that HDR simply is not capable of doing is lighting a room. For instance: See the room to the far right just beyond the kitchen. In order to create the illusion of dimension and depth in architectural photography, the room must be lit. If not…that room would be dark and uninviting. The other thing you'll notice about HDR real estate photographers is that they can photograph an entire home and be in and out in about 45 minutes to and hour. The images you see below took about 2 hours to photograph.
Luxury Real Estate Photography Done the Right Way
All the images that you'll see here are lit with up to five different lights. This creates depth, dimension and a clean image hat shows off the interiors true colors, textures, and different surfaces, like: the blue backsplash, the white washed wooden ceiling, the stainless steel hood and the shiny marble counter top.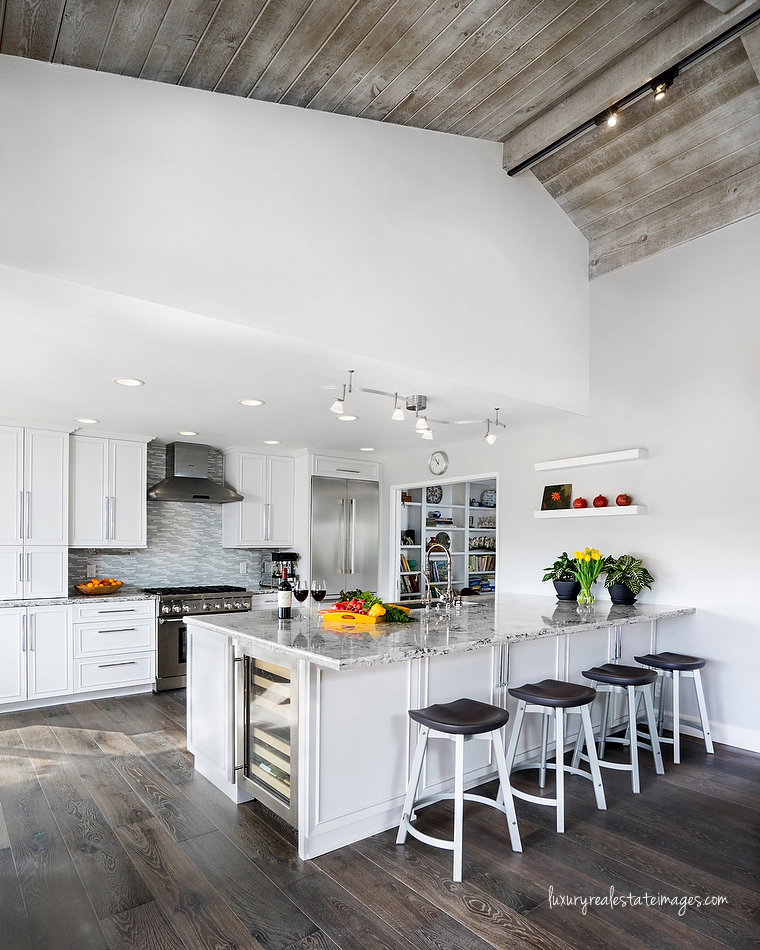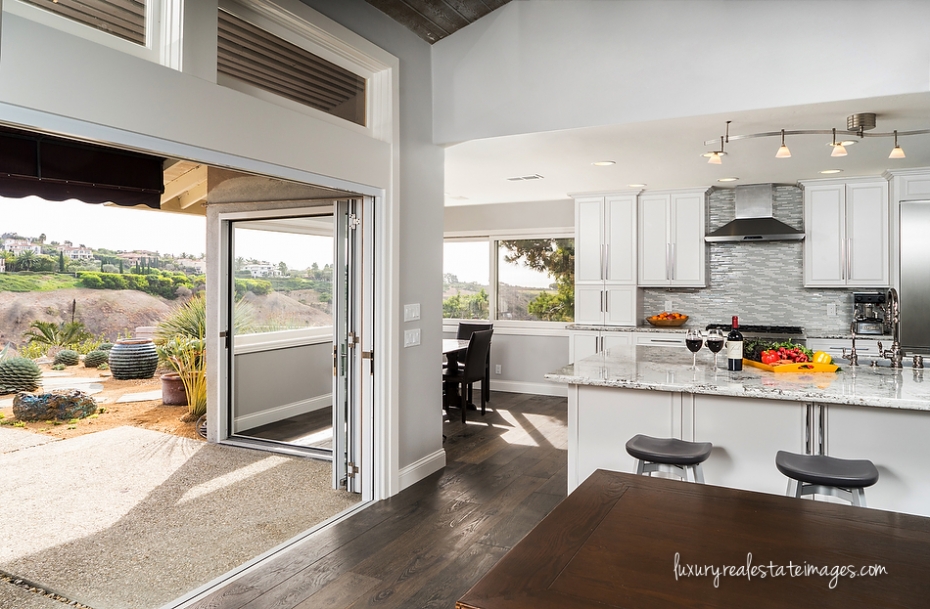 The interior designer worked in harmony with the homeowner to marry the concept of outdoors and indoors together. As you can see in the image below. In order to show off their concept in a luxury architectural photography shoot it is necessary to add light to the interior. Because the home is lived in, the homeowner would only allow us to photograph during the day time. The solution was to light the interior to bring up the interior light close to the exterior ambient light. If this wasn't lit you'd have only two choices, (1) expose for the interior and blow out the entire scene on the exterior or (2) capture only the exterior and have the entire interior go dark. Professionally lit luxury real estate photography is more expensive than HDR because it takes more time to achieve the results. But the results are superior to HDR photography. If you are looking for magazine quality luxury real estate and architectural photography like you see in major magazines that show off gorgeous homes from around the world look no further.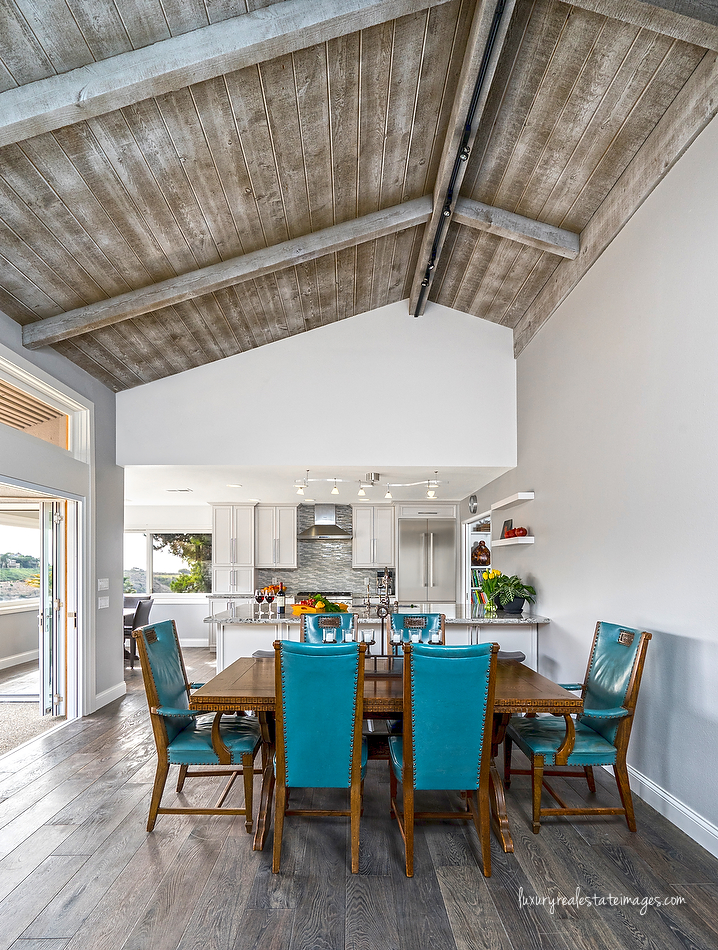 You can follow me on Instagram to see more luxury real estate photography and my travel photography.
Marc Weisberg is an award winning photographer and videographer specializing in architectural, commercial and luxury residential real estate photography, for architects, brokers, engineers, commercial builders, home builders, hotels, interior designers, and restaurateurs.
Marc Weisberg is an Architectural & Luxury Real Estate Photographer
providing the highest caliber images for realtors, interior designers, developer, contractors, hotels, resorts, home stagers, architects and home builders needing to showcasing their property. Services offered include, Luxury Real Estate Photography, Architectural Photography, Commercial Photography, Fine Art Photography, Interiors Photography, Resort Photography and Luxury Vacation Rental Photography. Marc owns and operates a successful Southern California based studio founded in 2001, and is the founder of
Luxury Real Estate Images
. His work is widely published and sought out by luxury brands. Contact Marc by phone 949.494.5084, or by
email.
---